How to Set-up a Desk, Choose the Right Keyboard and Find a Mouse to Match
 
We spend a lot of time at work, in front of screens and in digital environments, with some estimates stating that we spend more than five hours per day sitting at our desks. It makes sense, therefore, that our workstations, keyboards, mouses and desk accessories are set-up in a comfortable, ergonomically sound, effective and welcoming way, helping us stay healthy and work productively.
If you're feeling overwhelmed and unsure where to start, fear not! This guide has got you covered with our top 25 desk essentials and an exhaustive list of mouses and keyboards, to help you make the right choice based on how and where you're using them. And if you're looking to find out more on how to be an ergonomic hero, check out our article: The Complete Office Worker's Guide to Ergonomic Furniture. Let's begin!
Top 25 Desk Essentials
Water

You've heard it a hundred times, but let us continue to nag you. Drinking water at work is essential to keeping hydrated, and although the myth that we must drink 8 glasses per day has finally been debunked, having water on hand for when you're feeling parched is a must. Invest in a good drink bottle, keep a glass at your desk or go for broke by filling a jug with cold water and keeping it nearby.
We like the range of water bottles found on Hello Green and the high quality options from Biome.



Mug Warmer
Okay, so this may be a highly specific, seemingly indulgent, most certainly optional accessory, but anyone who appreciates a warm cup of tea, drinks slowly or gets distracted easily will love this one. Having a mug warmer will not only keep your drink nice and toasty, it allows those of us who have hands made of ice to warm our extremities, too! Check out this list of the 10 Mug Warmers to Keep Your Coffee at the Perfect Temperature, or for the ultra tech savvy, this USB cup warmer.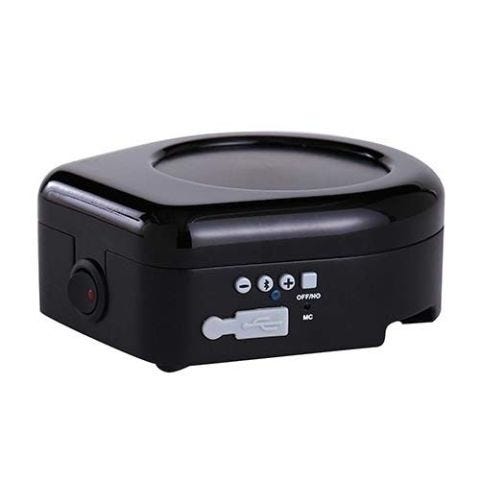 Coasters
Another one for those who enjoy snacks at their desk but are sick of inadvertently soaking their notes in a pool of water, and simple coaster can go a surprisingly long way. Having a little space for your drink to sit will mean a having a cleaner desk, and if you're a visual person who finds it difficult to work when your surroundings aren't aesthetically pleasing, will add a sense of style to your workstation. We like these ultra stylish coasters, but if you're not sure want you want, this list will set you on the right path.


Stationery Organiser
Having an organised desk may not be as important as having your files and spreadsheets organised, but you may be surprised at how much easier it is to get things done when your workspace is clear. According to CNN Money: the average person loses an hour a day to disorganization [sic].
As well as investing in minimal, high quality stationary, you can keep your desk organised by following our tips, including:
Decluttering the space by removing anything non-essential to your daily activities

Prioritising files and paperwork

Investing in a high quality, comfortable and spacious desk

Investing in storage, such as a strong set of draws

Keeping only the stationary you need on hand and storing the remainder in your desk draw

Wiping down your desk's surface and dusting regularly

Having a few containers and stationary management items can make the world of difference, and will add a splash of colour and personality to your desk. Our favourites are the desk organisers at Officeworks and the solutions available at IKEA.
Cleaning Putty
I'm not going to mince words here: desks are absolutely filthy. On the best of days, they're probably a little dusty; on the worst, they're packed with bacteria, food scraps and germs. Cleaning your desk should be part of the regular hygiene routine you have at work, and using cleaning putty makes this process not only effective, but really fun, too! Ebay has a surprising range of cleaning putty, as does Amazon.

Personalised Mug
We've all come across that passive aggressive member of the team who likes to gently remind you that, while of course they're happy to share, you're actually using their coffee plunger and their milk, so it'd be nice if, well, maybe you brought in something to contribute, too. Rather than labeling your mug like a peasant, take passive aggressive behaviour to the next level with a stylish, personalised mug. If you're really concerned, put a picture of yourself drinking out of the mug, on the mug. Genius!
We like the range at Moon Pig and Hard to Find.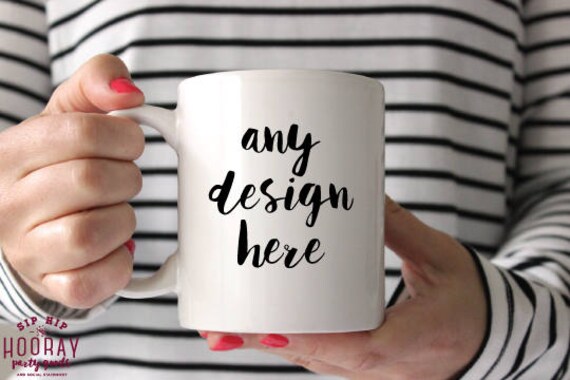 To-do List
A to-do list, a scheduler, a calendar or some form of organiser is a non-negotiable when it comes to productivity. Most people these days prefer a digital planner, a scheduling app or simply use their online calendar for this function, but for the special few who continue to put pen to paper, a to-do list makes the job even easier.
There are cheap options at Cotton On, and stylish planners at Milligram, too.



Cord organiser
Keeping your cables neat not only leads to a cleaner and easier-to-operate workspace, it assists in making you compliant with current W.H.S. standards. Having a neat, well organised and safe workspace is essential to getting stuff done.


Officeworks has a large range of options, as does The Container Store.
Hand Sanitiser
Washing your hands can help prevent 1/3 diarrhea-related illnesses and 1/5 respiratory infections. When put that way, not washing your hands is also just gross.
You should be regularly washing hands after visiting the bathroom or before preparing food, of course, but having hand sanitiser at your desk is perfect for use after enjoying a snack, handling old paperwork, or greeting your colleague's cute but very dribbly baby.
Don't use hand sanister like you would soap and wash it off, instead follow the guide below:
And just in case you need a refresher on how to wash your hands with regular soap, we've included this handy infographic:

Hand cream
If you're regularly washing your hands, handling paper files or working in an environment where your hands are exposed to chemicals and other products, your hands are probably pretty dry. Having hand cream on standby means you can relieve any dryness, take in a nice scent (and potentially receive compliments from those around you, which is a nice bonus), and give yourself a mini hand massage. It's just like going to the spa!
We love Lush and Thank You creams.

Stress ball/stress relieving toys
Work is stressful, even at the best of times. Between dealing with customers, managing colleagues, meeting tight deadlines and your general day-to-day duties, work can be an overwhelming place. Of course, some issues at work require counselling, meetings or may even lead to you seeking employment elsewhere, but for the less serious moments that still get your blood boiling, a stress-relieving toy can be just what you need. It's part of a tried and tested method of activating and relaxing the muscles, and will give you a chance to stretch out your hands. They make great desk decorations, too!
Check out the range of stress balls at Amazon, or why not try a Buddha board to keep you calm?
Plants or succulents
Particularly important if you work in an office with few windows, minimal natural light and no greenery, plants have a huge impact on health and well-being, outlined in our handy infographic, which states:
Even a small garden can bring a modern feel to an office, providing beautiful fresh decorations and statement pieces

Plants reduce stress levels

Employees are more productive when their office is filled with greenery, and studies have indicated that hospital patients tolerate pain better in spaces with more plants

Indoor plants can remove up to 87% of air toxins within 24 hours

A minimum of 300g of carbon dioxide can be eliminated from an enclosed environment for every square metre of leaf surface in the area per year
A laptop is a necessary purchase for anyone looking to maximise space, anyone who works in a hot-desk friendly office, or anyone who does most of their work remotely. It will transform your laptop by giving it a desktop monitor feel, and enable you to utilise more of your desk space. Laptop Stand and Slimline Warehouse both have a great range of desk stands and laptop desks.

Headphones
A good pair of headphones is an item everyone should own, regardless of the type of work you do. Whether you're listening to podcasts, enjoy some fresh tunes, taking phone calls on the go or blocking out office noise, you'll most certainly notice the difference when you make the switch. Headphones are also a great way to deter your colleagues from interrupting you, even if you have no music playing and can hear every whispered conversation around you. Check out this list of the headphones 5 Best Headphones, click here if you're ready to invest in the best, or check out this link for some killer gaming options.

Notebook
Even if you have a fabulous tablet or easy-to-transport laptop, sometimes writing notes by hand is the easiest option. Some people find it psychologically encouraging to physically cross off tasks on a list, while others just enjoy the more traditional practice of taking pen to paper. Writing by hand is also useful for mapping out designs and instructions, depending on your line of work.
Looking for inspiration? Read this article for the 10 Great Notebooks Productive People Love.

Phone Charger
Having a phone charger at your desk may have seemed like an entirely unnecessary accessory several years ago, but most people these days use their phones for business calls and emails, or drain their batteries on the way to work listening to music or podcasts. If you don't want to bring in a charger or invest in a wireless desk charger, a USB cable is a great option, and enables you to easily transfer files from one device to another.

Heating pad
Shout-out to all you long-suffering, winter-hating, cold-handed victims! It's tough being the cold person in the office, especially when everyone around you insists on blasting the air-conditioner, no matter what the temperature is. A heating pad will keep your feet warm and your workstation cosy, and makes the perfect gift for your icy colleague. For more inspiration, check out this fabulous list of
21 Ridiculously Warm Products Everyone Who Works In A Freezing Office Needs
:

Gum or mints
Nothing is more uncomfortable than sitting in a meeting after eating a big serving of garlic bread, trying to casually cover your mouth to shield your colleague from your bad decisions. Having a packet of gum or mints at your desk means you'll always feel fresh, smell great, and will give you the option to shove as much spicy Thai food into your mouth while you work as you want. Check out the JasonL infographic about bad breath for more tips.


Mini shredder
This adorable item is a hilariously cute way to save time and maintain privacy, and will most definitely lead to many of your colleagues coming over to see it in action. A mini-shredded makes destroying files a breeze, and everyone in the office will get a taste of how fun-loving and ridiculous you are. Check out the range here.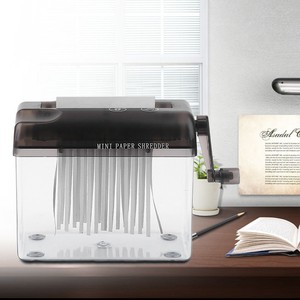 Inspirational posters
This may be too cheesy for some, but a strategically placed, carefully worded inspirational message can be just the thing to get you through a tough day. It could be a calming image, a quote, photo, song lyrics or a poem, or whatever you think will help you in times of stress. It can also add a splash of a colour to an otherwise dreary setting, which may help improve your mood, too. Check out this list of 50 Motivational Posters That Will Boost Your Productivity or 21 Motivational Posters You'll Actually Want in Your Office.
Alternatively, be the Stanley Hudson of your office:

Photos
For something a bit more personal, skip the poster and put up some photos of your kids, spouse, friends, family, or even, god forbid, your colleagues. If you've received any awards for your work, be sure to frame them to motivate you in times of pressure.

Deodorant
A pretty self-evident suggestion, but important to include nonetheless. Offices get hot and stuffy, you have to run to meetings to make it in time, and your suit jacket sticks to you as the air conditioner misses your pod completely. Keeping deodorant or antiperspirant on hand means never having to apologise for sweaty handshakes. 


Snacks
While a lucky few manage to go through a whole day 'forgetting' to eat, those of us prone to hunger suffer greatly. Sitting in a long meeting, dreaming of left-over pizza is one painful experience, so having emergency snacks is a must. Do your best to avoid vending machines however, as they are usually full of unhealthy food that won't do much to satisfy your hunger, anyway. We suggest: 
Nuts, like cashews or almonds
Carrot sticks with hummus
Popcorn, for a low-calories option
Fruit
Protein balls
Crackers
And of course, the humble banana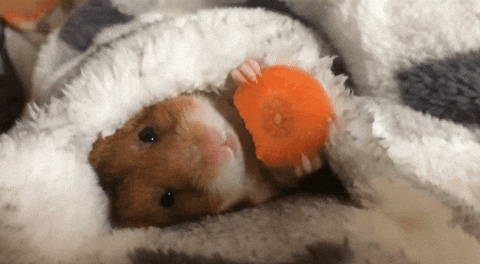 Read our useful infographic for more advice on how to eat healthily at work.
Tea bags or instant coffee
Sometimes you just need a boost of caffeine, or the welcome taste of a warm cup of tea. Don't just settle for the company provided, generic, black teabags though - spoil yourself with some exotic flavours or soothing combinations like lemon and ginger or mixed berry.

Tissues
Whether you're a regular sniffler, an influenza expert or just someone who makes a mess, a small box of tissues might be something to consider. If you're really messy or find yourself eating at your desk often, invest in some moist towelettes, too.

The 38 Best Computer Mouses 
Whilst it may be the smallest item on your desk, a computer mouse can help you work faster and more effectively, or lead to injury, discomfort and long-term pain. There are a few things to consider when selecting your mouse, including:
Does your workstation suit a wired or wireless mouse? Do you need bluebooth?

Do you need a travel mouse for working whilst out of town?

Are you looking for a multi-purpose mouse? Are you an office worker as well as a gamer? 

Do you require customisable buttons?

Do you share a desk? If so, are you comfortable investing in a high quality mouse that somebody else may be using?

How much are you willing to spend?
Before selecting a mouse, check out our table of comparison to work out which one best suits your needs. 
Name

Key Features

Ideal For

Image

BUDGET

Logitech M510

3-year warranty

Wireless

Laser-grade tracking

7 buttons

24-month battery life

Contoured shape with soft rubber grips

Extra controls

Connects up to 6 unifying devices

Those working long hours and the comfort obsessed

Microsoft Basic Optical Mouse

Comfortable design

Ambidextrous design

Customisable buttons

Ergonomic features

3-year warranty

Those looking for a cheap ergonomic option and the scroll-a-holics

Logitech M310

Available in three colours

Wireless

18-month battery life

Contoured design with soft rubber grips

Responsive tracking

Workers who move around and those in shared spaces

Dell Optical Laser Mouse

USB Plug & Play connectivity

Simple design

Optical technology

Office or remote workers

2.4G Wireless Vertical Ergonomic Mouse

Futuristic and ergonomic design

Wireless

Offers 5-buttons

Ergonomic junkies on a budget

TeckNet M012 2.4G Nano Vertical Ergonomic Optical Mouse

Ergonomic and sculpted design

Integrated scroll wheel

No software installation required

Tactile materials

Those wanting to combine comfort and precision

VicTsing MM057

Wireless connectivity

Basic gaming features

Uses Pixart PAW 3212 optical sensor

Beginner level gamers

Splaks Wireless Mouse

Multiple colour options

Dynamic shape and design

Energy-saving feature

Wireless technology

Basic gamers and everyday users

Insignia - USB Optical Mouse

Optical technology

Flexible cord range

USB connectivity

Movement resolution up to 1200 dpi

Everyday users and those who need the freedom to move

WIRELESS

Kogitech MX Ergo Wireless

Advanced trackball

Speed and accuracy cursor options

Multi-device connectivity

Modern design

Trackball enthusiasts and those who demand quality

Microsoft Bluetooth Mobile Mouse 3600

Multiple colours available

Bluetooth connectivity

Comfortable design

12-month battery life

The remote workers who don't have time for cords

Logitech G900 Chaos Spectrum

1-millisecond report rate

Competition-level twitch targeting

Equipped with PMW3366 optical sensor

Lightweight

Sleek gamers and e-sport professionals

Logitech MX Master 2S Wireless Mouse

Available in 2 colours

Multi-computer workflow

High quality tracking

Fast and efficient scrolling

Power users and productivity experts

EagleTec MR5M2509

Easy switchable DPI

5 buttons with 2 programmable options

Ergonomic design

Laptop or desktop users

HP X3000

Basic yet modern design

2.4GHz wireless connection

1-year battery life

Optical sensor with fast scrolling

The no-frills types

Microsoft Sculpt Comfort

Customisable

Intuitive touch tab design

Bluetooth connectivity

Works on almost any surface

Comfortable thumb-scoop design

The travelling worker who demands precision

GAMING

Logitech G300S

Configurable design

1-button trigger options

Reassignable game commands

9 programmable buttons

2-year warranty

Gamers who demand comfort

Asus ROB Gladius II

Easy swap switch socket design

Customisable click and lighting

50-million-click durability with extra Omron switches

Detachable cable and easy to transport

The ergonomically inclined gamer

Razer DeathAdder Chroma

Ergonomically designed

Swift responsiveness

Customisable lighting

Snug fit

Highly accurate optical sensor

The advanced gamer

Redragon M601 CENTROPHORUS-3200 DPI Gaming Mouse

6 buttons

Adjustable DPI

Up to 10-million click durability

8-piece weight turning set

Red backlight

The serious gamer who demands style

Steel Series Rival 700

Optical sensor

Customisable OLED Display

Optional extra cables

Tactile alerts

The regular gamer looking for a long-term investment

Asus ROG Spatha

In-built flash memory

12 programmable buttons

Available as a wired or wireless option

Customisable RGB lighting

Magnetic charging station

Gamers who spend hours at the computer and need a high quality tool to assist

Razer Ouroboros

Ambidextrous design

Wireless connectivity

Sexy modern design

Laser sensor

A family of gamers who like showing off

Logitech G502 Proteus Spectrum

Highly responsive sensor

Accurate tracking sensor

5 customisable weight options

Programmable RGB lighting

11 programmable buttons

Gamers who spend hours dominating online and require the best

Corsair Gaming M65 PRO RGB FPS Gaming Mouse

Ultra responsive sensor

Completely customisable

8 programmable buttons

Available button mapping

Regular gamers who can't choose just one

Corsair Gaming Scimitar PRO RGB

Macro button control system

12 mechanical side buttons

Highly customisable

Onboard storage

4-zone backlights

Up to 1000Hz/1ms refresh rate

The most dedicated gamers

Razer Naga Hex V2

7-button thumb wheel

Programmable buttons

Pre-configured MOBA profiles

16,000 DPI 5G laser sensor

Hardcore gamers

Corsair Sabre RGB

8 programmable buttons

Lightweight design

10,000 DPI sensor

4-zone 16.8 million colour backlight

Ergonomic and comfortable design

Gamers on a budget

Razer Naga Trinity

16,000 DPI sensor

19 programmable buttons

Mechanical switches

Tactile scroll wheel

Rubber-side grips

Serious gamers who know just what they want

Razer Basilisk

8 programmable buttons

Mechanical switches

5G optical sensor

Customisable scroll wheel

Gamers who need the basics plus a few extra features

ERGONOMIC

Logitech M330 Silent Plus

Available in 2 colours

Silent design offering 90% noise reduction

Smooth scroll wheel

Contoured grips

2-year battery life

Those who just want some peace and quiet

Jelly Comb 2.4G Slim Wireless Mouse

Available in several funky styles and colours

Sensitive mouse click

Portable design

Universal compatibility

Minimal ergonomic features

Those on a budget who need a little comfort

3M Ergonomic Optical Mouse

Unique ergonomic design

Joystick shape

Available in several sizes

Those who like to stand out

J-Tech Digital Scroll

Removable palm rest

Unique ergonomic design

Two thumb buttons

High-resolution sensor

Joystick-like design

Those looking to combine comfort with the feeling of driving a car

Sharkk Computer Mouse High Precision Optical Wired Mouse

Ergonomic design

Adjustable settings

Modern design

5 programmable buttons

Simple folks who spend a lot of time at a desk

COMPUTER

Logitech MX Anywhere 2

Available in multiple colours

Operates across up to 3 computers

4000 DPI sensor

Ultra-fast scroll

3-minute charge time

The elite tech heads

Apple Magic Mouse 2

Apple product

Multi-touch surface

Rechargeable battery

Sleek and modern design

The Apple users

Razer Lancehead (Mac)

Available in 3 colours

e-sports grade optical sensor

Ambidextrous feature

Optimised switches

16,000 DPI

Available as a wired or wireless mouse

The multi-platform user
The 38 Best Computer Keyboards 
There are so many different types of keyboards out there, all for various uses and at different price points. As with selecting a mouse, you need to determine what your primary use will be, how much you're willing to spend, what kinds of buttons and features you need and whether or not an ergonomic design is important to you. Check out our table of comparison for our top picks.
Name

Key Features

Ideal For

Image

CLASSIC

Logitech K780

Silent typing

Can be used with smartphones, tablets, PCs, Macs or Androids

10m wireless range

1-year warranty

The smooth operators who like to move around

Jelly Comb MK08

In-built touchpad

Lightweight and ultra thin

Customisable hotkeys

Portable

The travelling and remote workers

AUKEY Mechanical Keyboard (mechanical)

Mechanical design

Tactile switches

Responsive and accurate key commands

Customisable backlights

The everyday users and regular gamers

JIMO Ultra-Slim Wireless Foldable Ergonomic Keyboard

Ergonomic design with scissor switches

Universal compatibility

Portable and foldable

Ultra-thin

The travellers who work on the go

Matias Ergo Pro (mechanical)

Quiet operation

High quality rubber mechanical switches

Low-force option available

Carefully designed navigation cluster

Ergonomic junkies

Das Keyboard 4 Professional

Mechanical design

Gold-plated mechanical keys

Media control knob

Laser-etched key inscriptions

Professionals who want a classic keyboard with extra features

Logitech K350

Wireless

Comfort Wave Design

3-year battery life

Wave-shaped frame

Contoured design

Those who demand comfort at work

BUDGET

J.Burrows Low Profile Wireless Keyboard

Battery powered

2.4 GHz wireless technology

Power-saving mode available

Those who don't care for bells and whistles

Craft Advanced Keyboard with Creative Input Dial

Wireless design

Included input dial

Smart illumination feature

Quiet keystroke response

Modern and lightweight design

Those who demand premium products and spend hours at their desks

J.Burrows Wired Keyboard

Low cost

Wired

Flat, basic design

Plug-and-play connectivity supported

Those looking for a no-frills, basic option

Verbatim Slimline Keyboard

Tactile keys

Adjustable legs with tilt option

1-year warranty

Plug-and-play USB

The everyday workers who do basic Word processing

Anker Ultra Compact (Mac)

Slim and lightweight design

Quiet keys

Broad compatibility

Power-saving mode available

Those who like to travel light

Fellowes Microban Split Design Keyboard

Split design

Anti-microbial protection for hygiene

7 additional hot keys

16-character buffer

Ergonomic design

Worker who don't want their long hours to end in sore wrists

AmazonBasics Wired Keyboard

Quiet keys

1-year warranty

Classic design

Media player keys

The low-maintenance types

Anker Bluetooth Ultra-Slim Keyboard

Bluetooth enabled

Ultra-slim design that's 30% smaller than regular keyboards

Quiet keys

Those who prefer a minimalist set-up

Dell KB216

Comfortable design

Multimedia keys

Simple, classic set-up

For the office workers who don't need anything fancy

HP K1500

1-year warranty

Comfortable, classic design

Wired

Those looking for a classic, at a good price

Arteck HB030B

Portable

7-colour backlights

Thin and light design

Bluetooth feature

Those who want a classic keyboard with a bit of oomph

GAMING

Hcman Mechanical Gaming Keyboard

6-colour backlights

Mechanical design

87-key format

Every key controlled by an independent switch

Regular gamers and fast typists

 

Razer Ornata Chroma Revolutionary

Custom-created key-caps

Individually backlit keys

Ergonomic design with magnetic wrist wrest

10-key rollover anti-ghosting

The serious gamers who want to go the distance

Adesso Tru-Form 150

Ergonomic meets gaming

3-colour keyboard set-up

Membrane key switches for faster, softer responses

Split keyboard

Those who want to combine office comfort with after-hours gaming

Logitech Prodigy Gaming Keyboard G213

Bold RGB lighting

5 lighting zones

Spill-resistant

Cusomisable key functions

Dedicated media control keys

The messy gamers who need a strong keyboard

HAVIT HV-KB558CM Gaming Keyboard

Mouse and keyboard combination

Multiple colour options

LED lights

19 anti-ghosting keys

Multimedia functions

Those who need a keyboard and mouse combination for regular gaming

Rii RK100+ Multiple Color Rainbow LED Backklit

Bold design

Colourful backlighting

Mechanical feel

Wired

For beginner gamers not wanting to invest a lot of money

CORSAIR K55 RGB Gaming Keyboard

Quiet keys

6 programmable macro keys

Anti-ghosting feature

RGB backlighting

Gamers who want a classic option

DBPOWER Three Colors Backlit LED Keyboard

Ombar Gaming Keyboard

Made with Aircraft Grade Aluminium

The sparkly gamers who like to stand out

PinPle Keyboard One Handed

Mini-design ideal for one-hand gaming

Ergonomic hand rest

Lifetime warranty

The single handed gamers

CORSAIR K70 RGB RAPIDFIRE

Fast mechanical design

Aluminium frame

Dramatic lighting

Anti-ghosting technology

Wrist rest

Gamers looking for a premium, high-quality product

ERGONOMIC

Microsoft Sculpt Ergonomic Desktop

Split keyboard

Ultimate ergonomic design

Comfortable arc

Users who want a classic ergonomic option

Kinesis Freestyle2

Adjustable features

Ergonomic layout

Driverless hotkeys

Adjustable mechanisms

Those looking to bridge the gap between extreme ergonomic designs and traditional keyboards

Surface Ergonomic Keyboard

Modern, stylish design

Created with a natural arc

Extended wrist support

Bluetooth enabled

Ergonomic design

The stylish executive

Kenesis Advantage2

Compatible with PC and Mac

Concave keywells

Ergonomically created

Tented keywells

Palm support

Tactile keyswitches

Those who want the latest in ergonomic designs

 

iClever Wireless Folding Keyboard

Foldable and portable design

Ergonomic features

Built-in bluetooth feature

Built-in rechargeable battery

Workers on the move

WIRELESS

Microsoft Wireless Desktop 900

Minimalistic design

Includes Advanced Encryption Standard

Mouse and keyboard combination

2-year battery life

Office worker looking for a reliable keyboard

Microsoft Surface

Modern and sleek design

Aluminium case

Bluetooth feature

1-year warranty

Optimised feedback

Surface users

Bluetooth Multi-device Keyboard k480

 

Multiple colour options

Suitable for desktops, smartphones and tablets

Bluetooth feature

Easy-switch dial

For those who work remotely with various products

Omoton Wireless Keyboard

Ultra-slim design

Bluetooth connectivity

Cusomisable hotkeys

Suitable for Apple devices

Those who need a basic option for a home or office computer
 Sources:
1. Office workers spend too much time at their desks, experts say
British Psychological Society
https://www.sciencedaily.com/releases/2012/01/120113210203.htm
2. Health Infographics
https://www.nationaljewish.org/health-insights/health-infographics
3. Hand washing for preventing diarrhoea
US National Library of Medicine - National Institutes of Health
https://www.ncbi.nlm.nih.gov/pubmed/18254044
4. Do You Have a Not-to-Do list? Here's Why You Should
Inc
https://www.inc.com/minda-zetlin/got-a-to-do-list-great-a-not-to-do-list-is-even-more-important.html

5. 6 Habits of Highly Effective Bosses
Julia Lee-Kim
 6. Motivation: How to get started and staying motivated
Health Direct
https://www.healthdirect.gov.au/motivation-how-to-get-started-and-staying-motivated
7. Here's how your desk should be organised 
CNN Money
https://money.cnn.com/2015/01/30/pf/jobs/desk-organized-tips/index.html

 8. Dictionary of Furinture
Charles Boyce
9. Furniture: A Concise History
Edward Lucie-Smith
10. Why getting motivated is hard (and how to do it anyway)
ABC News
http://www.abc.net.au/news/health/2018-07-08/why-getting-motivated-is-hard-and-how-to-do-it-anyway/9951434
11. How to Stay Insanely Self-Motivated, According to Science
Medium
https://medium.com/the-mission/how-to-create-insane-change-in-your-life-according-to-science-bb3cddd1022
---
---
← Older Post Newer Post →
---