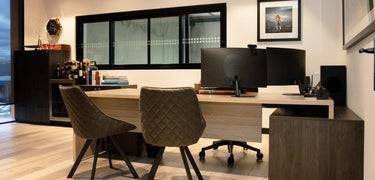 Need
a Fitout?
Shop the digiDirect Look!

Hello, I am the Blackjack Round Meeting Table. I am a designer table with stylish black powder-coated post. I have polished chrome feet with leveling glides to keep me sturdy at all times. Customise me to suit the size of...

Style and luxury join forces with me, the Como Amy Armchair. My frame is made with durable metal powder coat, while my base is beautiful synthetic leather that's ultra comfortable for hours. I look fantastic in office waiting rooms, reception...

Is your office looking for the perfect boardroom table? A combination of functionality and style? Then look no further. I am Boardroom Table Premium Indented Chrome Legs Blackjack with straight ABS edge. My stylish slick design is sure to complement...
We've Done Fitouts for These Great Companies
What Our Customers
Have to Say
Jano Ramas
@Jano Ramas - 3month(s) ago
Ordered a 900 x 1500 magnetic whiteboard - delivered and happy with the product -well wrapped. I was given information also on the...
Fi Meyer
@Fi Meyer - 3month(s) ago
JasonL has a great website, easy to navigate. The table top I bought was exactly what was described, great quality, good prices and...
Spooky Lukey
@Spooky Lukey - 5month(s) ago
Flawless customer service from Onella! I arrived at the showroom to purchase without preordering. I was also in rush to my next meeting....
Where to Find Our Showrooms