How to Create a COVID-safe Office
We've been living in a COVID-19 world for more than a year, but it's only now that things are starting to resemble some form of normalcy in Australian workplaces.
Many people are back at work after periods of business closures, but there's still a lot to navigate and consider to ensure we stay safe and don't end up in another lockdown. 
The way we approach work has certainly changed, too.
Source: Pureprofile
Since the initial shutdowns, close to 50% of the Australian working population have spent some of their time working from home, a staggering figure that will no doubt alter the expectations of the modern office worker post-pandemic. 
Carefully planning and strategising, adjusting your office furniture and accessories and updating your processes will give you the confidence to get back to work, even during an ever-changing situation like a global pandemic.
To help you get started, we've put together a guide to managing safety in the office, so start reading, make your own plan and comment your thoughts below! 
Source: de zeen
Quick Tips
 Communicate regularly and share information with workmates. 
Err on the side of caution: it's better to be cleaning too often than not often enough!

Be patient and show empathy.

Refer to professionals and government guidelines.

Create processes to help you manage your changing workplace.

Invest in products that will make your professional life easier and safer. 

Be on the lookout for symptoms and encourage staff and clients to stay home if they're feeling unwell.
Source: Health Direct

Let's Talk
Communication is important in all parts of life, and there's certainly no difference when it comes to establishing and maintaining a positive office culture.
It's particularly difficult when you and your team aren't in the same space, and you're struggling with those awkward video call discussions where everyone keeps speaking at once.
Moreover, where usually you'd notice changes in behaviour or signs of distress, isolation makes these more difficult to spot and can lead to members of your team suffering in silence. 
Source: Kenan Foundation Asia
Positive communication is a key part of a healthy office culture, and may include:
1. Setting up regular meetings
These meetings don't have to be long or directionless and should have an objective.
It may be that the simple act of speaking with colleagues about a work issue is enough, or you may choose to set up short 'check-in' meetings, where each person shares something about their weekend or work achievements before kicking off the day.
2. Ask questions and listen
This means taking the time to understand your colleagues' point of view, showing empathy, and working to find solutions to issues that may arise. 
3. Show vulnerability
It's often difficult for us to show vulnerability at work, but normalising opening up about our fears and weaknesses creates a culture of understanding and accountability.
If owning up to mistakes is encouraged, your office will have less finger pointing and negativity, and errors are less likely to be covered up.
4. Ask for feedback
This may be anonymous or a regular part of post-project analysis, but should always be honest, fair and done with good intentions.
Sharing positive and negative feedback will enable you and your team to manage problems before they get out of hand, help each other improve, and will make compliments and praise more meaningful.
Feedback should also extend to how the office is run and include suggestions for how to manage working effectively during a pandemic. 
Source: Statista


5. Limit mobile phone use in the office
We're all very dependent on our phones, but often struggle to give a task or meeting 100% of our focus if they're on the table or in the room.
In fact, one survey found that 24% of employees have hidden a mobile phone during a meeting with the intention of secretly checking messages throughout.
Another study shared that 'mobile devices are the biggest distraction during the workday', and that 'workers waste an average of 56 minutes per day, or nearly five hours a week, using their mobile devices for nonwork activities.'
Some calls are necessary for work and a little social media scrolling is harmless, but encouraging your staff or colleagues to put away their phones unless absolutely necessary will lead to greater engagement, better attention and a more involved staff.
6. Invest in team building
Non-work activities, team building and team drinks are an excellent way to help staff relax, connect, build rapport and create friendships. This leads to greater teamwork in the office, better relationships and a more cohesive and creative group of people.
7. Be aware of non-verbal communication
Although we often think of communication as speaking to each other, non-verbal communication includes body language, tone of voice and even eye contact.
Be aware of these signals and how they might come across to colleagues, employees and guests, particularly in high-stress situations or a workplace that's constantly changing during a global pandemic.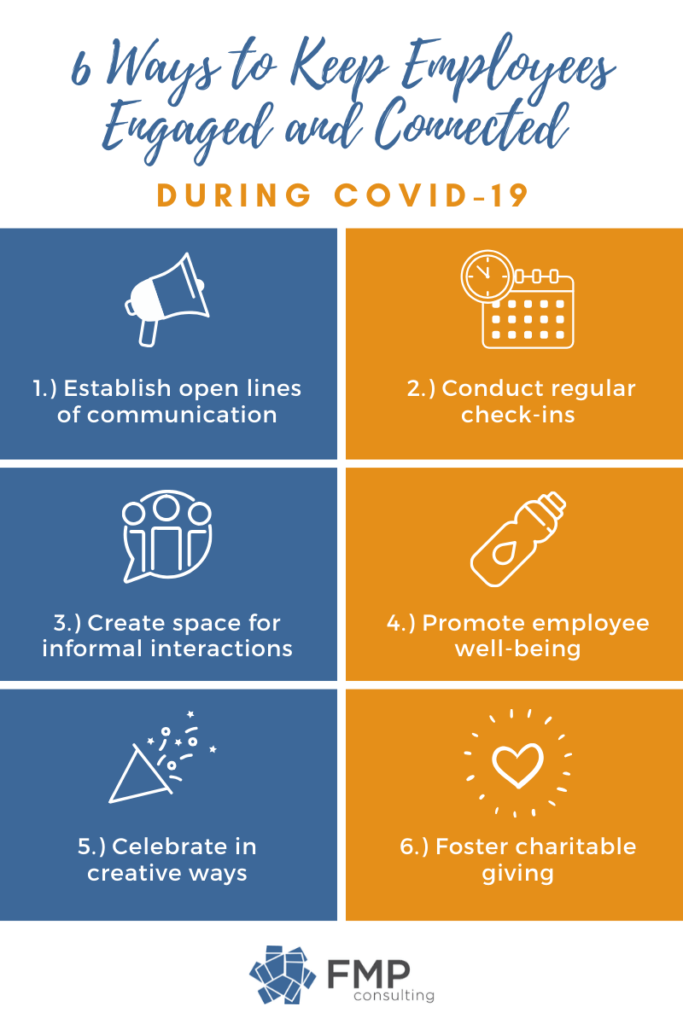 Source: FMP Consulting
8. Let technology help you
Video conferencing, collaboration tools like Trello and Slack, social media and newsletters are great ways to share messages about restrictions, company policy and expectations. 
9. Set up processes to help staff
This may include a shared drive to make document access easy, meeting protocols or any other system that makes staying connected simple. 
Signage is another useful way to communicate with staff, and acts as a regular reminder of expectations, restrictions and office rules.
Floor decals indicating distance requirements have become very popular over the last 12 months, as have free-standing signs and A-frames. We love: 
Working from Home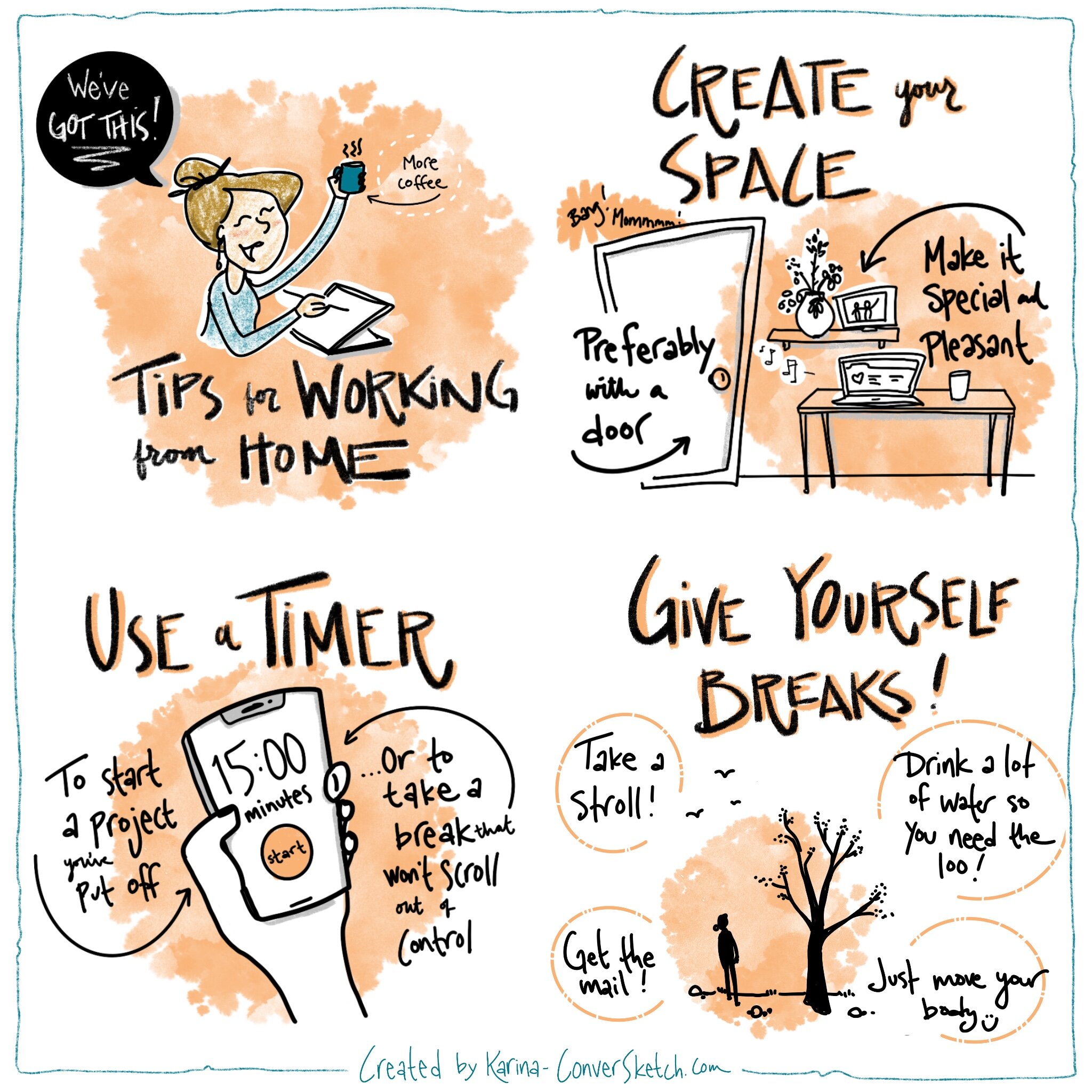 Source: Conversketch
When the pandemic was at its worst in Australia, most businesses that didn't require in-office work offered their staff the option to work from home.
While for some their home set-up wasn't suitable for full-time work, many others realised how many advantages this arrangement has.
Certainly, if you don't have a home office, ergonomic desk, comfortable chair, strong internet connection or live in a noisy apartment, working from home could be your worst nightmare, but there are many up-sides, too, including:
Saving time on travel

Saving money on travel, food and other daily expenses

Having a more flexible working life e.g. starting a little earlier to enable school drop-off 

Saving the business money due to decreased electricity and operational costs 
There can be negative consequences which must be considered with this arrangement, like employees struggling to maintain the balance between their work and non-work lives and burning out, isolation, and mental health issues that are more difficult to recognise when employees work remotely.
These can all be managed if the office culture is positive, and if there are enough support systems to ensure all staff feel they can speak up if struggling.
And of course, the inevitable criticism of this style of work can be summarised in one word: TRUST.
More specifically, a lack of trust leads some to worry that their staff or colleagues could easily slack off and do personal things on company time, if they're not in the office under the watchful eye of their superiors. 
The issue with this line of thinking, is that it immediately indicates a lack of accountability and poorly aligned incentives.
If employees believe in what they're working towards, feel a sense of ownership over their jobs, feel personally accountable for the success or failure of a given campaign or task and are properly compensated for such efforts, they will work hard regardless of where they're based.
Moreover, it should be very obvious if employees aren't fulfilling their obligations from home, as deadlines will start to be missed and output will suffer.
If not, it may indicate a deeper problem with the job itself, and suggest that employees in the office are working slowly to fill the day, rather than working productively until their tasks are complete.
If the work is done well and there's time to spare, is there anything inherently wrong with an employee taking an extra break at home?
Source: COVID-19 coronavirus in pictures
If you or your workforce has transitioned to a more flexible arrangement, it's worth investing in some key items to ensure that productivity doesn't suffer. In addition, a poor set-up can lead to injury, pain and general discomfort. Here are some of our favourites!
Quadro Square Leg Home Office Desk
A high-quality ergonomic desk

Available in multiple sizes and colours

Sturdy and reliable 

10 year warranty

 
Sonic Open Slab End L Shaped Corner Workstation with Hutch
Key features: 
Spacious desk with space for multiple screens and accessories 

Hutch which offers ample space for files, books and other essentials 

Multiple sizes available

Desk drawer pedestals optional 

Five year warranty 
Just Right Height Adjustable Desk
Key Features:
Easy height-adjustment feature

Flexible and goes from sitting to standing positions within seconds 

Multiple sizes and colours available 

Three year warranty 
Pop_top Stand-up Height Adjustable Desk
Key Features:
Affordable alternative to a full-size stand-up desk

Offers flexibility to sit and stand with the simple press of a button

Fits in with your current set-up

5 year warranty
CHAIRS
Key features:
Classic office chair with ergonomic and ultra comfortable design

Supportive mesh back 

High density cut foam designed for eight or more hours of sitting 

Two-lever mechanism for back and height adjustment 

Three year warranty
Key Features:

Synchro mechanism lockable in four positions

Supportive arms

Suitable for heavy, regular use

Five year warranty
 Smile and Enjoy - Executive Fabric Office Chair
Key Features:
Adjustable tension control

Lumbar spine support 

Optional adjustable arms

Comfortable, supportive and made from high-quality materials 

10 year warranty
STORAGE AND ACCESSORIES 
Pop Monitor/Laptop Stand
Key Features:
Conveniently houses monitors and creates space on your workstation

U-shaped legs that bend

Amazing low price 

Five year warranty
Interactive Monitor Single Arm 
Key Features:
Provides full motion and flexibility

Tilts, extends and swivels up to 90 degrees to the left and right

Includes adjustable arms

Assists in creating an ergonomic workstation

Five year warranty
DPG Extended Monitor Arm and Laptop Tray
Key Features:
Suitable for laptop and single monitor use 

Height and rotation mechanism

Keeps your desk clear and clean and offers ergonomic height options

Three year warranty
JasonL Foldable Steel Laptop/Tablet Stand
Key Features:

Five adjustment positions 

Non-skid silicone pads and folding mechanism for easy transportation 

Convenient and portable 

Three year warranty
Cable Management Basket Single Metal Tray
Key Features: 
Organises and protects cables

Increases desk space and keeps workstations clean 

Available in three sizes

Five year warranty
Keeping Things Clean
Even as restrictions ease and COVID-19 cases decrease, it's still important to maintain a strict hygiene and cleaning schedule. The general hygiene guidelines from the CDC that may or may not apply to your workplace or location include: 
Staying a minimum of six feet away from other people

Covering your mouth when you cough or sneeze

Regularly washing your hands for at least 20 seconds

Wearing a mask in public 

Regularly cleaning surfaces and objects that are frequently touched 

Staying home if feeling sick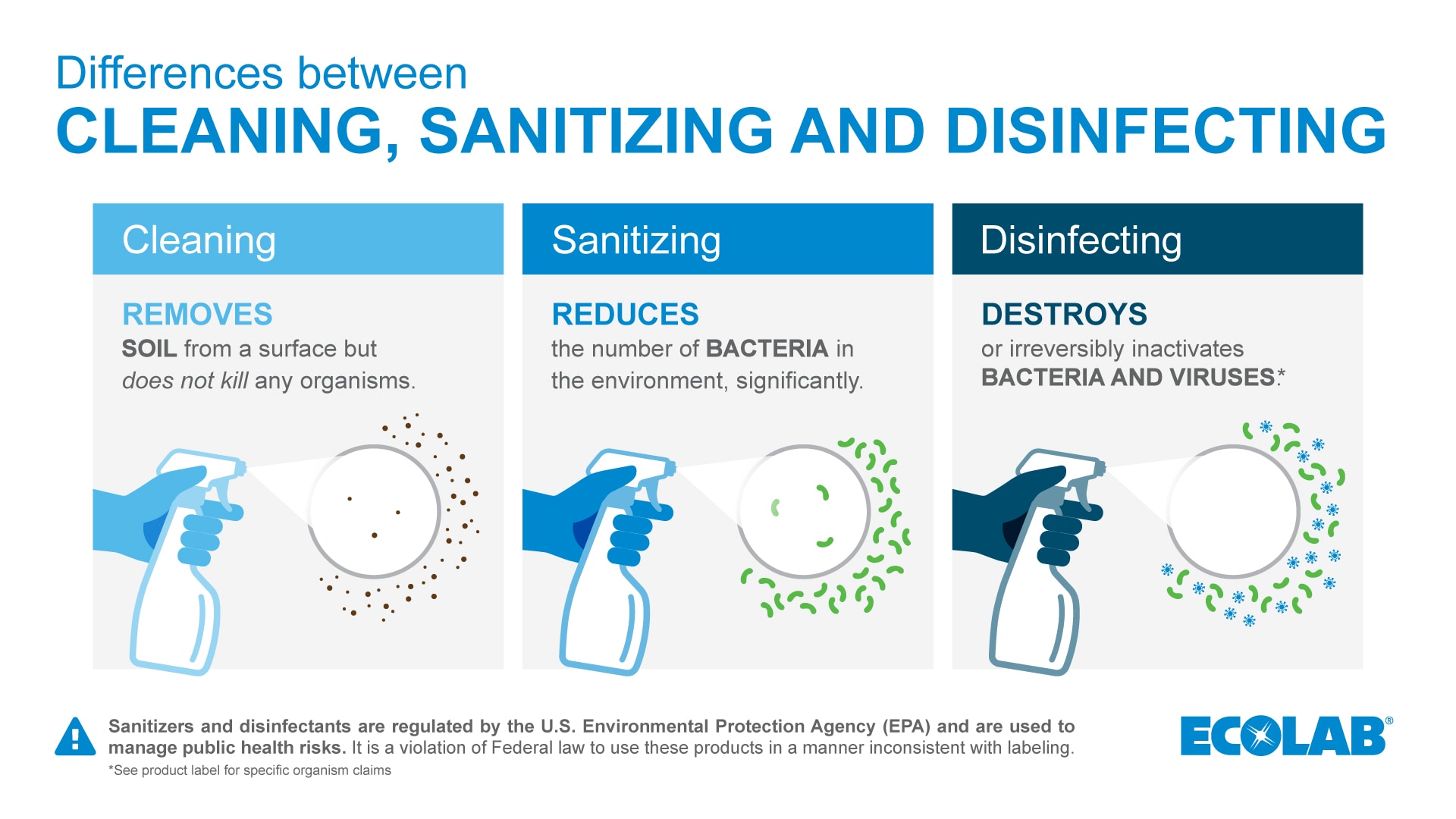 Source: Ecolab
Outside of government guidelines, best practice for the office includes a range of things to keep in mind: 
Ensure you have a well stocked supply of cleaning products, including hand sanitiser, disinfectant and masks

Always display clear and consistent messaging around the office 

Invest in training for health, safety and control measures, where appropriate

Reconsider workplace access points and make changes where necessary

Set up health and safety checks at entry points, lifts, reception areas and other key spaces. 

Set up additional protocols for busy periods 

Stop hot desking to avoid spreading germs 

Track guests and personnel
Source: Australian Government Department of Health
In addition, ensure you have a COVID-19 Safety Plan, and register as a COVID Safe Business if required. The most important thing is to stay up to date with government guidelines, and take responsibility for being informed on the latest rules. 
Penalties for breaching public health orders range up to $55,000 with a further $27,500 penalty possible for each day an offence continues. For repeated non-compliance, businesses may be shut down for periods of up to a month. 
Source: NSW Government 
Additional Resources
Find out more about work health and safety by visiting Safe Work Australia and searching by state. 
Read the National COVID-19 safe workplace principles, which outline workplace, business and employee health and safety guidelines, here.
Source: Government of South Australia 
Tips to Keep Your Space Fresh
Fresh air can reduce the chances of being infected with COVID-19, plants are known to purify the air, and setting up physical barriers in the office can stop the spread of germs, as well as provide other useful benefits. Keep your office safe and clean with these must-have products:
Hidden Risks
As previously outlined, there are some additional hidden risks associated with working remotely, including isolation, mental health issues, stress at home and the emotional toll associated with reentering a workplace. To deal with this transition consider offering counselling services and support to employees.
Stop the Spread...of Bad Information
Source: World Health Organization
The World Health Organization has put together a useful page that debunks commonly believed myths that are dangerous and potentially fatal. It's important to be aware of these to ensure you don't contribute to the spread of misinformation. Some of these include: 
Minerals and vitamins don't cure COVID-19.

The ability to hold your breath for 10+ seconds without coughing doesn't mean you don't have COVID-19.

COVID-19 doesn't transmit through swimming or contact with water.

Consuming bleach doesn't cure or prevent COVID-19, and is very dangerous.

Masks shouldn't be worn whilst exercising, as they can impact breathing.

Prolonged wearing of medical masks doesn't cause an oxygen deficiency. 

COVID-19 isn't transmitted via houseflies. 

Antibiotics fight bacteria but not viruses, and do therefore not prevent COVID-19.

Sun exposure, cold weather and snow don't protect against COVID-19.

COVID-19 isn't spread via mosquito bites.
Navigating Video Calls
The word Zoom was known to some prior to 2020, but once the pandemic hit and working from home became commonplace, many more quickly became familiar with this new way of communicating. 
Searches over the last five years of the word 'Zoom'.
Source:

 

Google Trends
For most, video conferencing has bridged the gap between home offices and professional ones, and enabled meetings and catch-ups to continue instead of relying solely on phone calls and emails.
The ability to share screens and see one another has enabled millions to stay connected, visually and on a more personal level, the latter of which has been particularly important during a time of isolation and for some, loneliness. 
Source: Canadian Payroll Services Inc. 
Utilising video conferencing is a fantastic way to keep things running with a remote team, and may even enable you to expand your workforce overseas and take advantage of international talent.
You may not, however, be enjoying all of the benefits products like Zoom have to offer. Some of our favourite shortcuts and features are: 
Calendar integration

: use the 

Zoom Scheduler Extension

 to enable appointments to include a Zoom option, which automatically adds the necessary details to the invitation. 

Quick invite

: the shortcut Alt+I or Command+I opens the invitation window, from which you can send the meeting URL.

Multi-share

: allow multiple people to share their screens for easy collaboration, by selecting 

View Options 

at the top of a video call screen, then selecting screens to view.

Record

: record your meetings for later use with shortcut Alt+R or Command+Shift+R (Alt/Command+P to pause recording).

Mute

: mute and unmute your own audio with shortcut Alt+A or Command+Shift+A.

Mute all

: mute all people on a call with shortcut Alt+M or Command+Control+M. 

Ensure your video is turned off when you join a meeting to give yourself time to get organised by selecting the arrow next to 

Start Video

, selecting the 

Video

 tab and selecting 

Turn off my video when joining a meeting

 under 

Meetings. 
Use 

Zapier

 to automatically set-up new Zoom meetings when connected with your scheduling app, calendar and more, for a more seamless workflow.

Use breakout rooms to divide attendees into groups before meetings, which is particularly useful during team building activities or prior to meetings kicking off.

Use the

 

Touch-up

 feature to look a little more professional during important calls by touching up your appearance via 

Settings

, 

Video

 then 

Touch-up my appearance.
 Although software has made our lives easier, the phrase Zoom fail has become ubiquitous and brings to mind some very amusing slip-ups.
To avoid these embarrassing moments, ensure your sound and video are both off when you're not talking. This will have the added benefit of limiting ambient noise, and the chat function is a great way to stop unnecessary interruptions.
Final Tips
Be patient. 

Refer to the experts.

Give your staff time off to get vaccinated: you can read more about the vaccinations and how to get ready 

here

. 

Be flexible and ready to change business processes when necessary.

Be safe and prepared.

If your office isn't doing enough to make you feel safe, research what you can do in response by starting here.
Sources
Coronavirus has forced Australians to work from home, but what are the impacts on CBDs?
ABC News
https://www.abc.net.au/news/2020-08-18/coronavirus-working-from-home-impact-on-australian-cities/12435248
COVID-19 safe workplace principles: What you can do if your office isn't adopting coronavirus-safe practices
ABC News
https://www.abc.net.au/news/2020-07-20/coronavirus-covid19-covidsafe-workplace-principles-office-return/12456726
COVID-19 vaccine rollout updates
Australian Government Department of Health
https://www.health.gov.au/resources/collections/covid-19-vaccine-rollout-updates
Coronavirus: Fresh air 'forgotten weapon' in fight
BBC News
https://www.bbc.com/news/health-55435914
Keep the Fresh Air Flowing After Covid-19
Bloomberg Opinion
https://www.bloomberg.com/opinion/articles/2021-04-06/keep-the-fresh-air-flowing-after-covid-19
How Much Time Are Your Employees Wasting on Their Phones
Business News Daily
https://www.businessnewsdaily.com/10102-mobile-device-employee-distraction.html#:~:text=A%20study%20from%20the%20staffing,mobile%20devices%20for%20nonwork%20activities
COVID-19 has Sparked a New Wave of Innovation Across Consumer Industries, According to Accenture Research
Businesswire
https://www.businesswire.com/news/home/20210411005013/en/COVID-19-has-Sparked-a-New-Wave-of-Innovation-Across-Consumer-Industries-According-to-Accenture-Research
Hosting a Video Call with Your Remote Employee
Canadian Payroll Services Inc.
https://canadianpayrollservices.com/how-to-host-a-video-call-with-your-remote-employee/
Stop the Spread of Germs
Centers for Disease Control and Prevention
https://www.cdc.gov/coronavirus/2019-ncov/downloads/stop-the-spread-of-germs-11x17-en.pdf
Zoom Scheduler
Chrome web store
https://chrome.google.com/webstore/detail/zoom-scheduler/kgjfgplpablkjnlkjmjdecgdpfankdle?hl=en
A FREELANCER'S FAVORITES: ILLUSTRATED TIPS FOR WORKING FROM HOME
Conversketch
https://www.conversketch.com/blog/illustrated-tips-for-working-from-home
Graphic designers get creative to circulate helpful advice during coronavirus outbreak
de zeen
https://www.dezeen.com/2020/03/18/coronavirus-covid-19-graphic-design-illustration/
Coronavirus (COVID-19): Protection Starts With Prevention
Ecolab
https://www.ecolab.com/offerings/public-health-resources-for-hospitality
6 Ways to Keep Employees Engaged and Connected During COVID-19
FMP Consulting
https://www.fmpconsulting.com/6-ways-to-keep-employees-engaged-and-connected-during-covid-19/
Around the Horn Sport GIF By ESPN
Giphy
https://giphy.com/gifs/espn-mute-around-the-horn-tony-reali-t0iSe43jX8JH0Hb95a
COVID Marshals
Government of South Australia
https://www.covid-19.sa.gov.au/business-and-events/covid-marshals
16 Advanced Zoom Tips for Better Video Meetings
Groove HQ
https://www.groovehq.com/blog/zoom-tips-and-tricks
COVID-19 coronavirus in pictures
Health Direct
https://www.healthdirect.gov.au/coronavirus-covid-19-in-pictures
How to Listen and Ask Questions for Effective Teamwork
Instead Knowledge
https://knowledge.insead.edu/blog/insead-blog/how-to-listen-and-ask-questions-for-effective-teamwork-15131
5 Steps for Effective Communication during the COVID Crisis
Kenan Foundation Asia
https://www.kenan-asia.org/5-steps-communication-covid/
Remember that viral BBC interview? These 8 working from home video chat fails are even funnier.
Mamamia
https://www.mamamia.com.au/zoom-fails-working-from-home/
COVID-19 - Frequently asked questions
NSW Government Health
https://www.health.nsw.gov.au/Infectious/covid-19/Pages/frequently-asked-questions.aspx
COVID-19 Safety Plan
NSW Government
https://www.nsw.gov.au/form/covid-safety-plan/office-environment-including-call-centres
COVID-19 Safety Plans
NSW Government
https://www.nsw.gov.au/covid-19/covid-safe#penalties
Find the facts about COVID-19
NSW Government
https://www.nsw.gov.au/covid-19/find-facts-about-covid-19
Register your business as COVID Safe
NSW Government
https://www.nsw.gov.au/register-your-business-as-covid-safe
Infographic: COVID-19 - What the new normal will look like
Pureprofile
https://business.pureprofile.com/infographic-covid-19-what-the-new-normal-will-look-like/
National COVID-19 safe workplace principles
Safe Work Australia
https://www.safeworkaustralia.gov.au/covid-19-information-workplaces/other-resources/national-covid-19-safe-workplace-principles
WHS regulators' contact information
Safe Work Australia
https://www.safeworkaustralia.gov.au/whs-authorities-contact-information
Slack - home page
Slack
https://slack.com/intl/en-au/
Smart Devices Provide Plenty of Workplace Distractions
Small Business Trends
https://smallbiztrends.com/2020/03/cell-phone-distractions-in-the-workplace.html
Is Working From Home Here to Stay?
Statista
https://www.statista.com/chart/21682/attitudes-on-working-from-home-in-the-us/
What We Can Do to Preserve Our Cleaner Air
State of the Plant, Earth Institute, Columbia University
https://blogs.ei.columbia.edu/2020/05/12/coronavirus-indoor-air-pollution/
My office is 'Covid-secure' but I don't feel safe
The Guardian
https://www.theguardian.com/world/2021/jan/17/my-office-is-covid-secure-but-i-dont-feel-safe
Major employers delay return to office until February
The Sydney Morning Herald
https://www.smh.com.au/business/companies/major-employers-delay-return-to-office-until-february-20210115-p56ua9.html
Trello - home page
Trello
https://trello.com/en
Mobile Phone Use at Work
TRUCE
https://trucesoftware.com/unplug/
David Brymer @davidbrymer [Twitter feed]
Twitter
https://twitter.com/davidbrymer/status/1242316175561773057
Work health and safety during COVID-19
Work Safe Queensland
https://www.worksafe.qld.gov.au/__data/assets/pdf_file/0013/19210/covid-19-overview-and-guide.pdf
Coronavirus disease (COVID-19) advice for the public: Mythbusters
World Health Organization
https://www.who.int/emergencies/diseases/novel-coronavirus-2019/advice-for-public/myth-busters
Coronavirus disease (COVID-19) pandemic
World Health Organization
https://www.who.int/emergencies/diseases/novel-coronavirus-2019
Getting your workplace ready for COVID-19
World Health Organization
https://www.who.int/docs/default-source/coronaviruse/advice-for-workplace-clean-19-03-2020.pdf
Get More Out of Your Zoom Meetings
Zoom
https://zoom.us/features
Zoom - home page
Zoom
https://zoom.us/
Zoom + Zoom Integrations
Zapier
https://zapier.com/apps/zoom/integrations/zoom
---
---
← Older Post Newer Post →
---