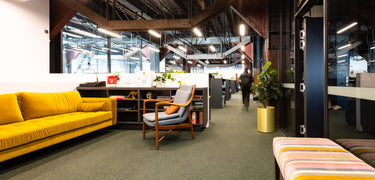 Need
a Fitout?
Shop the Bell Shakespeare Look!
G'day, mate! I am the Shrike Ergonomic Chair with back support. My mesh back ensures ventilation, even if you are seated for long periods, and my lumbar support ensures that your back is supported ergonomically.I have a unique quality and...

Running out of space in your office? Looking cluttered and disorganised? I am the perfect solution. I fit under any great JasonL desk or workstation. My simple design and modern finish allows me to suit any office workspace. I am...

Hi! I'm the Uniform Bookcase! I'm perfect for the contemporary office, combing style with practical storage. I'm perfect for storing folders, books, awards, photos and anything else you would like to proudly display. I'm 1170mm tall and fit into most...

Hi, I'm the Just Right Electric Height Adjustable Desk. I come in multiple sizes and colours, giving you the freedom to personalise according your your style. I'm comfortable and will give you support all day long.
We've Done Fitouts for These Great Companies
What Our Customers
Have to Say
Jano Ramas
@Jano Ramas - 3month(s) ago
Ordered a 900 x 1500 magnetic whiteboard - delivered and happy with the product -well wrapped. I was given information also on the...
Fi Meyer
@Fi Meyer - 3month(s) ago
JasonL has a great website, easy to navigate. The table top I bought was exactly what was described, great quality, good prices and...
Spooky Lukey
@Spooky Lukey - 5month(s) ago
Flawless customer service from Onella! I arrived at the showroom to purchase without preordering. I was also in rush to my next meeting....
Customers Frequently Asked Questions
What are the advantages of an office mirror?

An office mirror is a great addition to any workspace. It can make a space seem bigger and in some cases, it may even help to maximize the lighting in a room.

Can you put a mirror opposite a window?

To increase the amount of natural light cast around a room, simply place a mirror opposite or beside a window; no matter how gloomy the sky is outside, it will harness any available daylight. The bigger the mirror, the brighter and larger the space will feel.

Where should a mirror be placed in an office?

The easiest ways to create the visual illusion of space in your office include: Place a mirror in front of you. If you look up to see a slim space, you may feel cramped and confined. A larger custom mirror reflects the other area (behind you) and extends your view.