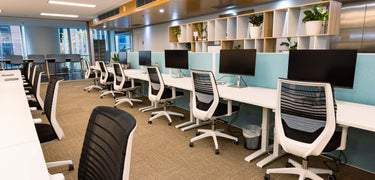 Need
a Fitout?
Shop the Kaddy Look!

My simplicity and sophistication is timeless and as a six person workstation, I'll fit into any office design. Coming in a range of raw, organic colours; including white, wenge and ample - you're able to complete your office with your...

Looking for a slick, reliable and enviable 2-sliding door item with comfortable seating and safety? Look no more. Get hold of me, the low sliding credenza for your office space. With 2 easy to move sliding doors allowing tons of...

Hi, I'm the Just Right Electric Height Adjustable Desk. I come in multiple sizes and colours, giving you the freedom to personalise according your your style. I'm comfortable and will give you support all day long.

Stay cool and comfortable all day long with me, the Swan Mesh Office Chair. My breathable mesh backrest allows for maximum airflow, ensuring you stay comfortable even during long work hours. With a white frame to match any office decor,...
We've Done Fitouts for These Great Companies
What Our Customers
Have to Say
Nick Owens
@Nick Owens - 2month(s) ago
Great service and price
Jano Ramas
@Jano Ramas - 3month(s) ago
Ordered a 900 x 1500 magnetic whiteboard - delivered and happy with the product -well wrapped. I was given information also on the...
Spooky Lukey
@Spooky Lukey - 5month(s) ago
Flawless customer service from Onella! I arrived at the showroom to purchase without preordering. I was also in rush to my next meeting....
Customers Frequently Asked Questions
How do I choose an office lamp?

Choose an office lamp that provides a clear, bright light that's easy to work beneath. It should offer a relatively focused beam with minimal glare. It should preferably also have an adjustable design that can be positioned to accommodate a range of tasks.

What type of lighting is best for offices?

The best bulbs for office lighting are usually the fluorescent, 6500k bulbs. This is because their intensity is not exaggerated and it resembles the regular daylight. Besides getting the right bulbs, you can also blend your office light by placing a low-intensity bulb on your desk to improve on clarity.

How does office lighting affect productivity?

Dim lighting tends to cause unnecessary strain on the eyes, which can lead to eye issues or headaches. Employees may experience drowsiness or lose their sense of motivation, which can result in an overall reduction of work productivity. Bright lighting or high-intensity lighting can also affect productivity.