The Complete Guide to Opening a Bar or Pub in Australia
The bar and pub scene in Australia has significantly changed in recent years. While you might find a traditional pub in certain areas, most have adapted to the contemporary changes in preferences, tastes and the way we drink.

Not only are Australians drinking less, there's an expectation from consumers to be able choose from a variety of menu options - some of which should be free of gluten or dairy, of course - to listen to current music, and be able to choose the type of experience they wish to have (coffee after 9:00pm, anyone?). For regional establishments this has made running a traditional business near impossible, but for others, it's provided an interesting business opportunity.

The same applies to bars, and there's a growing trend of Australian business owners bringing in top chefs and local drinks and menu items to lure in customers, many of whom are perfectly happy to drink at home or at a nearby, quiet restaurant. You're fighting for their time and business, and it can sometimes feel like an uphill battle.

If you've worked in the hospitality industry you know how challenging this type of work can be, and if you've run a business of any kind, you're likewise aware of the financial burden, time constraints, and significant personal commitment it demands. But with the right idea and the skills to execute a strategy, opening a bar or pub could be your more fulfilling venture yet.

It's an exciting world to be entering, as a business owner, entrepreneur and trendsetter. It'll give you the opportunity to create a fun, entertaining and high-quality space for people to unwind, get energised or simply have a great time.

We've previously written a guide to starting a cafe, but now it's time to delve into the world of pubs and bars. Read on for our comprehensive list of must-do things before opening a bar or pub.

Australians are drinking more at home than ever before

Getting Started

Before you invest money, time and energy into this new business venture, ensure you're committed to following through, and determine your reasons for wanting to do in the first place. What are your intentions and expectations?

Start by writing a mission statement, vision and general plan, and answer some key questions:
Why do I want to open a bar or pub?

What is my unique angle?

Why do I think I'm the person to develop this idea?

What do I want my customers to experience at my venue?

Am I passionate about this type of business, or just business in general?

What kind of values do I want my employees to have?

What kind of culture do I want my business to have?

What type of business would I be proud to run?
Once you've answered these questions, you'll have a clear sense of the kind of business you have in mind. But before you go any further, be sure that it's the right venture for you:

Reasons to open a bar or pub:
You've spent time researching this type of business and feel confident it's right for you

You're passionate about providing excellent customer service

You have a unique idea or angle 

You have a clear plan

You're willing to commit time and money to your business

You've worked in hospitality, have run a business or have some specific expertise that would give you a competitive edge 
Reasons not to open a bar or pub:
You're not ready for a long-term commitment 

You're not sure if hospitality is the industry for you

You're not financially secure 

You're not willing to work long hours, weekends or nights 

You can't see yourself doing it long-term

You're not willing to take reasonable risks to make it happen
Find a Point of Difference
What is going to make your bar or pub the next big thing? Why would people choose it over their regular ones? Finding a point of difference is an essential part of opening any business, and often has a big impact on its success. In such a competitive industry, it's not enough to simply exist; you must give people a compelling reason to come.

Furthermore, you're not just competing with other similar businesses, you're competing with other forms of entertainment, activities, and even the option of staying at home. It's free and convenient for people to stay at home, so if people have made the effort to come to your bar or pub and are willing to spend money, make sure you're giving them a unique, interesting and high-quality experience.

Some things to consider, there, include:
The theme of your bar or pub

The type of experience e.g. casual, cocktail, intimate

The hours that suit your preferred clientele

The type of food, if any, you'll serve

Specialised drinks e.g. cocktails, craft beers and speciality wines

A conceptual or immersive experience

Diverse and fresh entertainment 

Music and the general soundscape

Bar or pub rules, including behaviour that you will or won't tolerate 
Find a Location
Your location will first be dependent on your budget, which you should determine very early on in the process. Keep in mind you'll most likely have to pay a significant bond, plus pay a portion of rent in advance. There are many additional factors to consider, such as:
Council limitations on business hours and sound

The demographic of potential customers in the area

Opportunities for signage and advertising materials

Flexibility for your fit out

Foot traffic and area popularity

Proximity to residential spaces

Proximity to public transport

Other similar businesses and competition

The terms of the lease, up front payments and time frame 

Parking availability

Potential changes to the area, like major roads or building developments
As you start hunting for the right location, make sure you get AD approval for your business and know exactly what you need to get it running. It'll save time in the long run and you won't lose money making drastic changes.
Pro Tip: Consider seasonal interest, and account for it when determining your staffing requirements, menu items and general services. Winter can be a tricky time of year, but with the right strategy, it doesn't need to impact your general growth and revenue.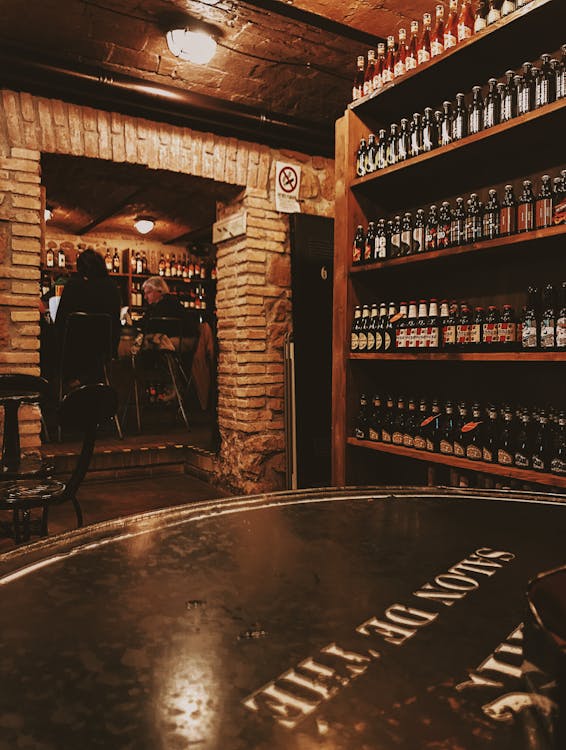 Finance and Funding
Starting a business costs money, and there are many ways you can obtain funding. These might include:
Self-funding, or funding via friends and family

Private investment, including angel investment, private equity and venture capital 

Grants and government assistance 
Crowdfunding services, like Kickstarter 
You'll need to write a thorough business plan, which should include your budget, forecasts and expectations for growth. 
Business Plan
As previously mentioned, your business plan should include a detailed budget, but there are many other sections to include. As a rough guide, consider writing:
A description of your business including general and day-to-day operations

Your business name and legal information

Future plans and projections

Marketing plans, including a SWOT analysis (more on marketing later)

Funding, including investor details and profiles

Goals and objections

Your business structure and type

Competitor and market analysis

Sales strategies and plans

Staff structure
There are many great templates online which provide a great starting point, which you can find with a quick Google search.
Staffing and Hiring

Finding the right staff can be hard in any industry, but it can be particularly challenging if you're running a bar or pub. As you start this process, you need to consider the kind of hours your establishment requires, and consider whether full-time, part-time, casual, contract work or some combination of the four suits your business. Things to look for when hiring staff include:


Motivation and the ability to take initiative

A positive attitude 

Flexibility and availability 

Hospitality experience, to level that suits your business

Customer service experience, or a passion to work with people

Professionalism and an understanding of your business type, and the kind of behaviour that's expected 
In addition to this, you'll need to establish the position requirements for your establishment, like bar staff, waiters and waitresses, chefs, cleaners, front of house staff, security and management.

Your employees will also need specific qualifications and training to work with alcohol and gaming machines, so ensure they have what's required before starting, or consider investing in this on their behalf if they fulfill other essential criteria.

Managing Staff

Working in the service industry means having to manage many elements on a business, including staff. To make this process easier, consider implementing:
Direct and team communication e.g. through programs like Slack

Project management: this could be for managing upcoming events, entertainment etc. e.g. Trello 

Customer relationship management: this could include managing and storing leads and communicating with customers 

Email communication: like Gmail, Outlook etc. 
There's no right or wrong way to do this, but using online systems is an easy, secure and reliable way to communicate with everyone who touches your business, and gives you a record of progress made. 
Pro Tip: run reports on your progress in all elements of your business, like social media following, email database, revenue etc. This will give you a sense of how well you're doing, and alert you to any areas that need special attention.

Regulations
Running a business that serves food and alcohol, may house gaming machines and hosts entertainment comes with a slew of regulations to follow. The exact licences you need will depend on where your business is located, as different states in Australia have different requirements. What you need to apply for also depends on the type of business you're running, how and where you're serving alcohol and council and state regulations.

To start, you'll need to be aware of your exact business details, and have registered it with the Australian government.
Choose your business structure: 
Sole trader: a business controlled by you and you alone
Partnership: a business of two or more people, making up a team of business partners (including you!)
Company: a legal entity that's separate from you, limiting your personal liability
Trust: meaning a trustee is responsible for business operations 
Register your business: 
The easiest way to register your business is to:

Register for an ASIC account, log in and click on Licences and Registrations
Select Business Name and enter your preferred business name
Register for a period of one or three years
Enter important information like your business address
Review your information and confirm your payment 
You can read more about this process and register a business of your own, here.

Register your website:
Registering a website is easy, though finding a name you like and being lucky enough to be the first to register it is often quite tricky. There are many websites to choose from, so  find one you like and register a website name that represents your business, isn't too complicated and stands out.

The next step? Getting a designer to create a killer website for you!

Apply for a licence:

As previously mentioned, each state has its own requirements for running a bar or pub. You may need to apply for a:

Small bar licence: if your establishment holds no more than 100 patrons and has no gaming machines.

General bar licence: if your establishment sells alcohol on the premise, at offsite functions and offers dining and entertainment services. It does not include gaming facilities or takeaway alcohol sales.

Hotel licence: if your establishment sells alcohol to be consumed on the premises or as a takeaway service, has gaming machines, provides onsite entertainment as a secondary function, and if you plan on selling alcohol off the premises. This is suitable for pubs, hotels and large bars.

Club licence: which allows your club to sell alcohol to patrons on and off the premises.

Packaged liquor licence: which allows you to sell alcohol that is not consumed on the premises, e.g. if your bar or pub as a bottle shop. 

There are other types of licences that you may need, so research the requirements within your state or territory. 
Pro Tip: consult a solicitor to ensure you're following all rules, laws and requirements for opening a pub or bar.
Insurance: 
Insurance is a must have, but understanding which type to invest in can be tricky. Regardless, without the right insurance, you'll be liable for injuries, damages and could lose the business you've worked so hard to build. Imagine a situation where someone is injured or hurt on your property while you're not even there, but as a result, you become bankrupt and must close operations. It's a scary thought! Some options to consider include: 
Public liability: 
Public liability is a great option if you run a business that encourages members of the public to visit, covering patrons as well as employees, partners and suppliers. It is not mandatory in every case but highly recommended. It may cover:
Legal costs

Damages

Injuries
Product liability:
If your bar or pub distributes or sells products, you may wish to take out product liability. It is for businesses that supply products to the public, and covers injuries and damages, among other things, if a claim is made by a customer.

Workers compensation:
Mandatory in Australia, this covers staff injuries at work.

Theft insurance:

This covers the loss of products and general theft on the premises. 

Building coverage:

This covers damage and repairs on your premises.

Loss of income:

This is needed if for some reason your establishment is forced to close as the result of a major event, such as a fire or flood, and covers things like wages and expenses.

As with all legal requirements, speak to a professional about which insurance is required for you to be properly protected. It may seem like a cost you can't afford, but without it, you'll be at risk of personal and professional ruin.
Your Bar of Pub's Fit Out

Anyone who has undertaken any type of renovation knows how painful, costly and time consuming it can be. A fit out is often, unfortunately, no different.

Before you can start this, you need to decide on the type of seating arrangement you want, and how you want to be serving food, drinks, entertaining people, as well as how you imagine (or want) the space to be used by customers. This is important, as your fit out will be different if you plan on serving a range of sit-down meals, as opposed to if you'll be encouraging dancing, hiring musicians to perform or hosting private functions. As you make these decisions, you'll need to consider several factors:
Your room structure and furniture. You may wish to buy bar stools, tables and chairs, counters or other types of furniture.

How many bathrooms are required, and what the current space permits

The interior design of your space, including artwork, decor, plants and your colour scheme

Stage and sound requirements e.g. speakers and microphones

Kitchen and food service requirements such as a fridge, oven, dishwasher, sink, food display, food prep equipment, lighting, storage

Your desired lighting design

Payment options, including a register and safe

Technology, such as laptops and tablets
You'll need to work closely with builders, plumbers, electricians and depending on your plans, architects and designers, too. Develop a detailed plan for what you want to include, and then work with experts to determine what's possible, that can reasonably work within your budget.
Name
Price
Warranty
Features
Image
Bamboo Tree Natural Trunk
$206
NA

Available in two sizes: 1600mm and 2200mm
High quality artificial plants
Real wood from the original plant for the trunk
Rental available
Symbol of power, luck and strengh

Z Laurel Trellis 1000mm x 2000mm
$144
5 years

UV treated
Highly durable and reusable 
Extendable features, ideal for wall designs
Rental available 

Z Ivy Fence Roll 1000mm x 3000mm
$142
NA

UV treated foilage
Artificial design
Ideal for partitions and wall features
Rental available 

Z Raphis Palm 100mm
$229
5 years

Divided leaves
Jagged edges
Durable and low maintenance
Australia Wide Assembly

Z Varieg Foilage Wall

UV treated
Rental available
Dynamic, multi-textured design
Artificial and low maintenance
Suitable for indoor or outdoor spaces

Brisk Bloom Vertical Garden
5 years

Available in two colours: black and white
Funky and modern design
Includes eight standard pots with weighted stones
Ideal for dividing a space or adding a touch 

Ginko Tree Potted
$414
5 years

Long, dynamic branches with fan shaped leaves
Artificial green leaves with real wood
Rental available

Moss Ball 330mm
$91
5 years

Unique and bold feature
Powerful green colour
Statement piece that hides unwanted cords and wires
Rental available 

Z Fiddle Leaf Tree
$206
NA

Availabe in four sizes: 1130mm, 1200mm, 1680mm and 2000mm
Adds a tropical vibe to any space
High-quality artifical feature 

Z Rattan Hanging Planter 
$183
5 years

Hanging decoration
Available in two sizes: 600mm an 700mm
Suitable for indoor or outdoor spaces

Z Japanese Bamboo Tree 1900mm
$439
5 years

Available in two colours: natural and black
Bamboo with strong stems and light foliage
Simple yet elegant design
Rental available 

 
Z Leaf Mat 500mm x 500mm
$31
NA

Affordable plant feature
Rental available
Fresh and light leaf mat
Ideal as a feature wall or space divider
 

Marketing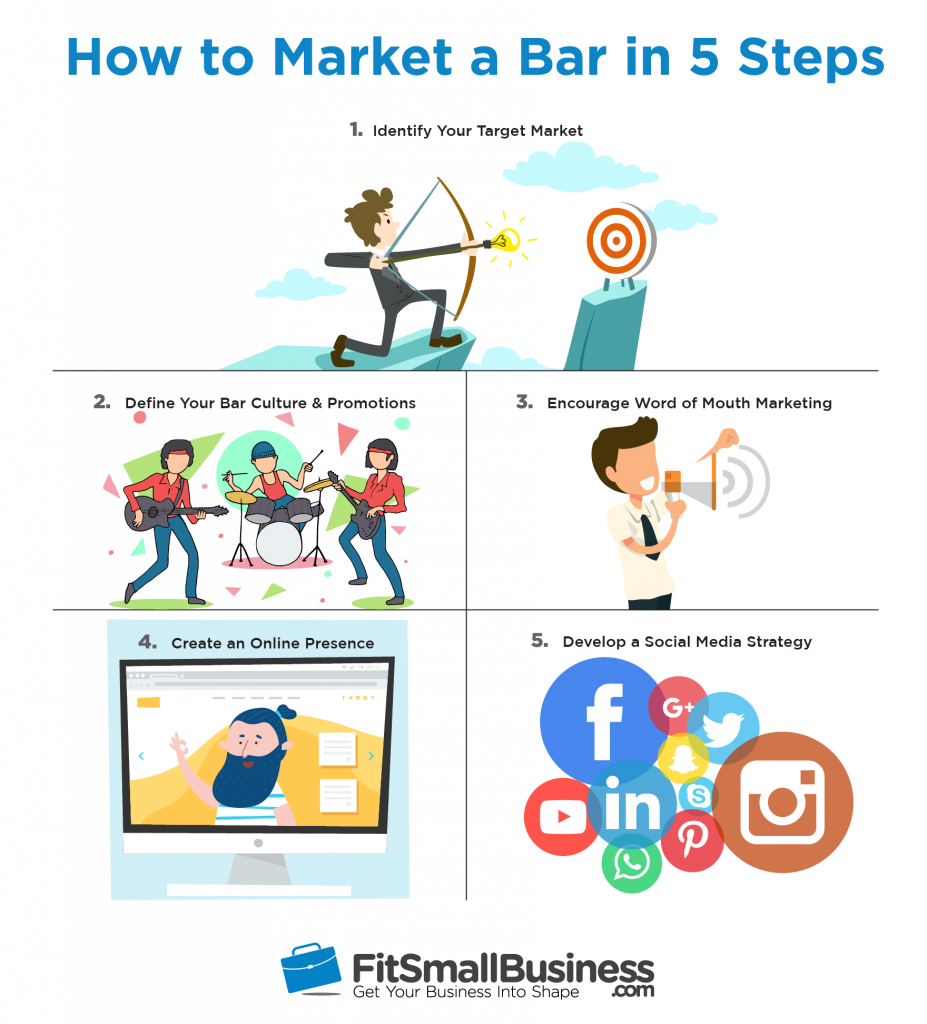 Marketing your bar or restaurant is the final step in our guide, but from another perspective, is the very beginning of your business becoming a reality. You'll start marketing once everything else is in order, but it will simultaneously mean the beginning of your ongoing activity and business launch. Your marketing should start before you open, but will be consistent activity as your business grows. Here are our top tips for marketing a pub or bar:

Research your area: understanding your area will help you best service those most likely to visit. Determine things like average age, income level, interests, tastes and preferences, and tailor your services to meet demand. 
Find your ideal market: once you know the demographic profile of your area, you can start to hone in on your target market. Who is your ideal customer? Who is most likely to seek out your services? Once you know this information, you can customise your marketing efforts, like targeted ads, boosted social media posts and paid search, to reach those people specifically.

Answer key questions: determine your brand, articulate your mission, and find your objective.

Have an online presence, through your:


Website: it may seem like an unnecessary cost, but investing in a well designed website is incredibly important. High-quality images, well written copy, key information and a strong user experience will drive business, and give potential customers every reason to try your venue.

Social media: eventually, if you want big results you'll need to put a spend behind your social media activity, but to start, simply set up business pages and invite your friends and family to like and share your pages. Try Facebook, Twitter and Instagram, upload basic details, and include representative images, menus and contact details.
Have a launch event: this doesn't have to be costly, just a chance for people to see what your business is all about. Offer an incentive to get people through the door, like discounted drinks or giveaways, connect with customers and collect email addresses in the process for your database.

Create a special offer: particularly at the beginning, though these should continue as you grow, special offers are a great way to generate press and interest. These might include themed nights, discounts, two-for-one offers, trivia nights, refer a friend campaigns among others. Be creative!

Connect with other local businesses: this may mean getting to know your neighbours, developing mutually beneficial offers or incentivising cross-promotions. It's also a great way to get people who work in the area to visit your bar or pub for lunches, after-work drinks and special events. They'll in turn recommend your venue and become free marketers.

Tell a story: what's your business all about? What's your mission? Who is the founder and what should people know about them? People connect through stories, so tell yours, and inspire people to want to know more and get behind your vision.

Encourage reviews: prompt your customers to leave reviews on Google, Facebook and other sites, rather than waiting passively for negative ones to ruin your reputation. If you're lucky, there won't be any negative reviews to worry about, but just in case, work to empower people to sing your praises and spread the word. Reviews are one of the primary ways prospective customers make decisions, so don't discount this.
Before you get started, check out the full range of Jason L bar and pub furniture, which offers something for every business type. 
Cafe Chairs
Name
Cost
Warranty
Features
Image

Cafe / Reception Chair

Wooden Legs Chickadee

$93
3 years

Stackable
Bold, modern colour
Comfortable design
Low cost option
Rental available

 

 

Wave Fabric Chair

Dart Base Black

$160
5 years

Available in three beautiful colours
Rental available 
Stylish and comfortable 
Fabric seat finish
5 star rating 

Cafe Restaurant Cafeteria Stacking Chair Plop
$59
Enquire within

Available in four bold colours including red, white, black and blue
Rental available 
Easily stackable 
Metal frame

Cafe Chair 

White Moulded Plastic Maya

$70
1 year

Affordable option
Made with moulded plastic
Durable and weather resistant
UV stabilised 

Claudio Stool
$48
5 years

Available in three colours including black, white and grey
120kg weight load
Stackable and convenient 

 
Dune Chair - Chrome Sled Base
$134
5 years

Available in five colours including light blue, dark blue, red, black and white 
Stackable, up to eight chairs
Dynamic and comfortable design

Teddy Plastic Tub Chair - 4 Legged Natural Wood
$209
5 years

Perfect for cafes and indoor spaces
Natural wood leg finish
Rental available
Available in three office-appropriate colours

Lozza Chair Sled Base - Plastic Seat and Back
$83
5 years

Affordable option
Lightweight yet sturdy and strong, with a 120kg weight load
Stackable up to 20 high
Joinable feet

Cathy Stool
$101
2 years

Light and flexible design
Easy to move and store
Available in two colours
120kg maximum load
Beech wood frame

Luna Black Chair Oak Base - Upholstery
$346
3 years

Premium, high-quality chair
Available in multiple colours including avocado green, bumblebee yellow, charcoal grey, chilli red, deep blue, emerald green, ice blue, stone grey and sunset orange
Cafe Tables
​ ​
Name
Cost
Warranty
Features
Image

Round Office Table Whistler

Four Star Steel Base

$176
5 years

Sturdy and clean design
Customisable and flexible
Rental available 
Available in four sizes: 600mm, 700mm, 800mm and 1000mm
Available in   three colours: white, maple and wenge               

Sapphire - Cafe Table Black Cast Iron Base
$299
5 years

ABS straight edge
Cast iron frame
Adjustable feet
Available in four colours: white, maple, wenge brown and inox
Available in three sizes: 700mm, 800mm and 1000mm

Talent - Wooden Cafe Table Natural Wood Leg
$99
3 years

Sleek, modern design
Ideal for trendy bars
Available in two colours: black and white
Sharknose indented angled edge 
Wooden leg

Tivoli Cafe Table Round Base White/Copper - White Disc
$229
3 years

Stunning, stylish design
Three table top finishes available: maple, white and wenge
Available in three table top sizes: 700mm, 800mm, 1000mm
Laminate table top finish

Sapphire Cafe Table

Square Double Base - Black Frame

$271
3 years

Versatile and customisable
Sturdy, strong and durable
Available with three table tops: maple, white and wenge
Choose from three sizes: 1200L x 700W, 1200L x 800W and 1400L x 700W

Square Cafe Table

Stainless Steel Base

$429
5 years

 Available in three sizes: 600mm, 700mm and 800mm
Sturdy, modern design
Three table top colour options: white, maple and wenge
120 Day Chair Trial available 

 

Vibe 50mm Panel Table
$882
10 years

Impressive 10 year warranty
Clean and crisp design
Available in four finish colours: white, maple, avignon and wenge
Straight ABS edge

Wooden Dining / Boarroom Table 

Rectangular Wiring

$473
3 years

Beautiful structural and appearance
Oak wood frame
Sharknose indented angled edge
Perfect for higher end establishments 
Bar Tables
​ ​​
Name
Cost
Warranty
Features
Image
Counter Height Office Cafeteria / Bar Table Black Leg
$440
5 years

High table, ideal for bars and casual spaces
 Available in three colours: white, maple and wenge
 Available in four sizes: 1200L x 700W, 1400L x 700W, 1600L x 700W and 1800L x 700W
Laminate top               

Switch Collaborative Large Counter Table - Black Frame
$1,129
10 years

Best Price Guaranteed
Aluminium white powdercoat
Comfortably seats up to ten people
Suitable for larger groups
Available in multiple colours and sizes

Switch Collaborative Large Counter Table - White Frame
$1,129
10 years

Statement piece with ergonomic design
Available in multiple colours and sizes 
Seats up to 14 people
Aluminium white powdercoat frame
Laminate top

Sapphire - Tall Round Bar Counter Table

Black Leg

$309
5 years

Simple, contemporary design
Ideal for intimate catch-ups
Available in three colours: maple, white and wenge brown
Select from four sizes to suit your space

Switch Collaborative Large Counter Table - Wood Imprint Frame 
$1,129
10 years

Powerful design with a strong table top
Seats up to 14 people
Available in multiple colours and sizes
Laminate top and aluminium wood imprint frame 

Switch Counter High - White Frame
$639
10 years

Best Price Guaranteed
Seats up to eight people
Available in several colours and sizes
Adjustable feet

Vibe 50mm Counter Panel Table
$992
10 years

Counter table, perfect for bars and pubs looking to maximise space
Available in four clean colours: white, maple, avignon and wenge
Thick table top
Straight ABS edge
Counter Stools
​​​
Name
Cost
Warranty
Features
Image
Plastic Bar Stool Flamingo
$44
3 years

Funky and bold design
Affordable and lightweight
Stackable
Footrest for ergonomic comfort

Wave Fabric Bar Stool - Sled Base Black
$201
5 years

Soft and comfortable ergonomic design
Available in three colours: blue, grey and burgundy
Ideal for a bar counter
Fabric seat with metal frame

Bar Stool White Lizi
$183
1 year

Modern and sleek design with supportive footrest
Rental available
Plywood shell seat type 
5 star review

Lana Bar Stool - 4 Leg Wooden
$116
3 years

Available in three fun colours: black shell, green shell and grey shell
Wooden base
Comfortable back and foot support
Rental available 

Cathy Counter Stool
$138
2 years

Available in black and white
Lightweight and easy to move
120kg load
Beech wood frame 

Claudio Counter Stool
$74
5 years

Basic, affordable and flexible stool
Available in three colours: black, white and grey 
120kg weight load
Stackable 

DSW Bar Stool Wooden Leg Eames Replica
$115
1 year

Beautiful and affordable Eames replica
Available in three colours: black, navy green and beige
Ideal for contemporary settings
Wooden leg

Pedigree Counter Stool
$135
5 years

Extra supportive counter stool with back and foot rest
Four colours available: blue, white, black and grey
120kg weight load
Metal frame

 
Rialto Timber Stool - Vinyl Black Seat
$331
1 year

Extra supportive stool with cushion seat, foot rest and back
Choose from four colours: light oak, walnut, olive grey and black
Vinyl seat and American oak frame

Net Outdoor Stool
$164
2 years

Designed for outdoor use
Resin seat material
Stackable
Non-slip rubber feet
UV stabilised
Available in three colours
Outdoor Cafe Chairs
Name
Cost
Warranty
Features
Image
Ginevra Outdoor Chair
$125
2 years

Stackable and flexible
Non-slip rubber feet and UV stabilised finish
Available in five bold colours: black, white, blue, green and red

Costa Outdoor Chair
$109
2 years

Outdoor chair with resin reinforcement
Fibreglass polypropylene
UV stabilised
Available in five colours: black, white, blue, taupe and red

Net Outdoor Armchair
$153
2 years

Stackable: up to eight chairs
Non-slip rubber feet and 
Designed for outdoor use
Choose from six colours: black, white, mustard, taupe, mint green and terracotta red
Fibreglass polypropylene seat

Net Outdoor Bench
$371
2 years

Comfortable shared bench for outdoor use
Stackable
Non-slip rubber feet designed with resin
Choose from two bench colours and optional pad for additional comfort

Bora Outdoor Armchair
$119
2 years

Choose from six colours: black, white, blue, chocolate, taupe and orange
Flexible and stackable: up to eight high
Comfortable armrests
110kg weight load

Bora Outdoor Chair

$109

2 years

Available in seven colours
Rental available
110kg weight load
Perfect for outdoor use
Stackable and easy to move

 
Costa Outdoor Armchair
$119
2 years

Comfortable and flexible outdoor chair
Stackable: up to eight chairs
Available in four colours
Lightweight and easy to transport
 Now all that's left to do is get started! 
References
The 'sober generation': Australian teens snubbing alcohol and cigarettes thanks to parents, researchers say.
ABC News
https://www.abc.net.au/news/2018-01-12/australian-teenagers-turning-away-from-alcohol-research-says/9323858

Pubs in the country strive to adapt to our changing drinking culture — or they die
ABC News
https://www.abc.net.au/news/2018-02-17/country-pubs-no-longer-just-drinking-holes/9390270

'People are definitely drinking less': How Sydney's pubs adapt to changing tastes
The Sydney Morning Herald
https://www.smh.com.au/national/nsw/people-are-definitely-drinking-less-how-sydney-s-pubs-adapt-to-changing-tastes-20190404-p51axt.html

Small bar licence
Liquor and Gaming NSW
https://www.liquorandgaming.nsw.gov.au/operating-a-business/liquor-licences/liquor-licence-types/small-bar-licence

Hotel licence
Liquor and Gaming NSW
https://www.liquorandgaming.nsw.gov.au/operating-a-business/liquor-licences/liquor-licence-types/hotel-licence

General bar licence
Liquor and Gaming NSW
https://www.liquorandgaming.nsw.gov.au/operating-a-business/liquor-licences/liquor-licence-types/general-hotel-licence

Grants and Programs
Business.gov.au
https://www.business.gov.au/Grants-and-Program

How to open a small bar
TimeOut
https://www.timeout.com/sydney/bars/how-to-open-a-small-bar

How To Open A Bar
Australian Bartender
https://australianbartender.com.au/how-to-open-a-bar/

How to Market a Bar in 5 Steps [+ Bar Promotion Ideas]
Fit Small Business
https://fitsmallbusiness.com/how-to-market-a-bar/

Promote Your Bar with These 7 Simple Marketing Ideas
Impos
https://impos.com.au/blog/ideas-to-promote-your-bar/

13 Trending Bar Marketing Strategies to Increase Sales (ASAP)
Buzztime Business
https://www.buzztime.com/business/blog/13-trending-bar-marketing-strategies-increase-sales-asap/

So you want to open your own bar
Executive Style
http://www.executivestyle.com.au/so-you-want-to-open-your-own-bar-2ufhv

How to start a bar
The Sydney Morning Herald
https://www.smh.com.au/business/small-business/how-to-start-a-bar-20140701-3b4wv.html

Finding the Right Insurance for Your Bar
Trusted Choice
https://www.trustedchoice.com/small-business-insurance/arts-entertainment/bar-coverage
---
---
← Older Post Newer Post →
---