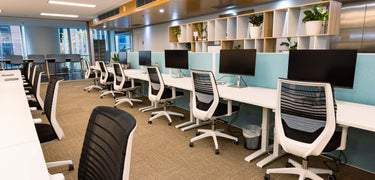 Need
a Fitout?
Shop the Kaddy Look!

My simplicity and sophistication is timeless and as a six person workstation, I'll fit into any office design. Coming in a range of raw, organic colours; including white, wenge and ample - you're able to complete your office with your...

Looking for a slick, reliable and enviable 2-sliding door item with comfortable seating and safety? Look no more. Get hold of me, the low sliding credenza for your office space. With 2 easy to move sliding doors allowing tons of...

Hi, I'm the Just Right Electric Height Adjustable Desk. I come in multiple sizes and colours, giving you the freedom to personalise according your your style. I'm comfortable and will give you support all day long.

Stay cool and comfortable all day long with me, the Swan Mesh Office Chair. My breathable mesh backrest allows for maximum airflow, ensuring you stay comfortable even during long work hours. With a white frame to match any office decor,...
We've Done Fitouts for These Great Companies
What Our Customers
Have to Say
Jano Ramas
@Jano Ramas - 3month(s) ago
Ordered a 900 x 1500 magnetic whiteboard - delivered and happy with the product -well wrapped. I was given information also on the...
Spooky Lukey
@Spooky Lukey - 5month(s) ago
Flawless customer service from Onella! I arrived at the showroom to purchase without preordering. I was also in rush to my next meeting....
Karen D
@Karen D - 6month(s) ago
Very easy to deal with, customer service excellent and their installer very quick and professional
Customers Frequently Asked Questions
What kind of rug should I get for my office?

When choosing the right rug for your home office, you'll want to choose a rug that fills your space, but isn't so large it overwhelms your room. If you're after a full-room rug effect, remember to leave 18 inches between the rug's edge and the wall. A rug all the way to each wall can make the room feel smaller.

Should I put carpet under my desk?

The rug should be large enough to wholly extend under the desk and chair when the chair is pulled out enough to stand up. You must also consider if there is any other equipment that you might access frequently during the day, such as a printer

What rug backing is safe for hardwood floors?

Natural rubber is the best overall option for hardwood floors in terms of both safety and performance. It's perfectly safe to use with all hardwood flooring and finishes. Natural rubber also has very strong gripping power but will never stick to your floors.