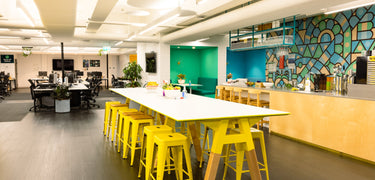 Need
a Fitout?
Shop the Prospa Look!

I'm the Sonic Everlast Side Table, a modern table that fits in with you. I may have a clean and functional design, but I'm still strong, reliable and durable, with a powder-coated, cantilever frame. I have a stunning, natural oak...

I'm the Horizon Quadro A Leg Office Desk, a functional and modern workstation for the home office or corporate environment. I understand the importance of privacy, which is why I've been designed with a floor-based partition screen that protects you...

I'm the Claudio Counter and Kitchen Stool, the small yet mighty chair you've been waiting for. Don't be fooled: I may be compact, but I can support weight loads of up to 120kg without even blinking.I'm suitable for indoor use...

Create some comfort in your workspace with my luxurious and sophisticated design. My double lounge is not only comfortable but also spacious and inviting. Coming in a range of colours, I am sure to suit wherever you may need. Perfect...
We've Done Fitouts for These Great Companies
What Our Customers
Have to Say
Jordan Turner (BlackValeKnight)
@Jordan Turner (BlackValeKnight) - 4day(s) ago
Have purchased twice with JasonL now, excellent quality office tables, and very wonderful and friendly service. Highly recommend.
Nick Owens
@Nick Owens - 2month(s) ago
Great service and price
Costa
@Costa - 5month(s) ago
Really fantastic service. From ordering right through to delivery and assembly, communication was excellent and everyone was friendly. The goods are of high...
Customers Frequently Asked Questions
What should I look for in a coat rack?

There are several things that determine the quality of a good coat rack, namely its size, the number of hooks it has, its function, and stability.

What is the purpose of a coat stand?

It often refers to a set of hooks that are attached to a wall and is mainly used to hang coats and jackets. The self-standing variant is more often referred to as a hat stand and is mostly used to hang coats, jackets, umbrellas, and hats.

How high should you hang a coat rack?

The average height of a coat rack is about 1.5 meters; this height keeps even long coats from hanging on the ground, but is reachable to most individuals.