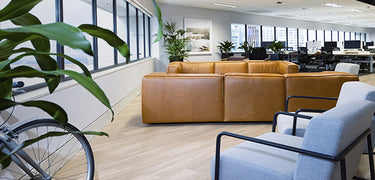 Need
a Fitout?
Shop the Creditor Watch Look!

G'day, mate! I am the Shrike Ergonomic Chair with back support. My mesh back ensures ventilation, even if you are seated for long periods, and my lumbar support ensures that your back is supported ergonomically.I have a unique quality and...

Hi, I'm Clay. I'm a plastic cafe chair, perfect for indoor or outdoor use. I come fully assembled and ready to roll, and am made strong to handle weight loads of up to 150kg.

Perfect for all office or cafe breakouts - I am the Switch - Counter High Table! The combination of my sleek black or white legs and range of different coloured table tops, are sure to compliment any space. If not...
We've Done Fitouts for These Great Companies
What Our Customers
Have to Say
Jano Ramas
@Jano Ramas - 3month(s) ago
Ordered a 900 x 1500 magnetic whiteboard - delivered and happy with the product -well wrapped. I was given information also on the...
Spooky Lukey
@Spooky Lukey - 5month(s) ago
Flawless customer service from Onella! I arrived at the showroom to purchase without preordering. I was also in rush to my next meeting....
Costa
@Costa - 5month(s) ago
Really fantastic service. From ordering right through to delivery and assembly, communication was excellent and everyone was friendly. The goods are of high...
Where to Find Our Showrooms